Pies, cakes, cheese Ashbourne's Local Deli
Locally Sourced × Crafted with Love
Located in the heart of Ashbourne, gateway to the Peak District, The Cheddar Gorge is a purveyor of fine english and locally sourced foods. A specialist in pies, cakes and cheese, we also have a small cafe and provide an extensive selection of food to go.
The Cheddar Gorge occupies a building in the heart of Ashbourne that was built in 1672, and has been selling food in one form or another for the past 30 years. Recently taken over by new owners in December 2017, the downstairs of the shop has been given a much needed facelift with a renewed focus placed on homemade products and developing the small cafe into a desirable place to eat and drink the best coffee in Ashbourne.
Phone
01335 344 528
Location
9 Dig Street
Ashbourne, Derbyshire, DE6 1GF
Hours
Mon - Wed 9am–16:30pm
Thu - Sat 8:30am–16:30pm
Sun Closed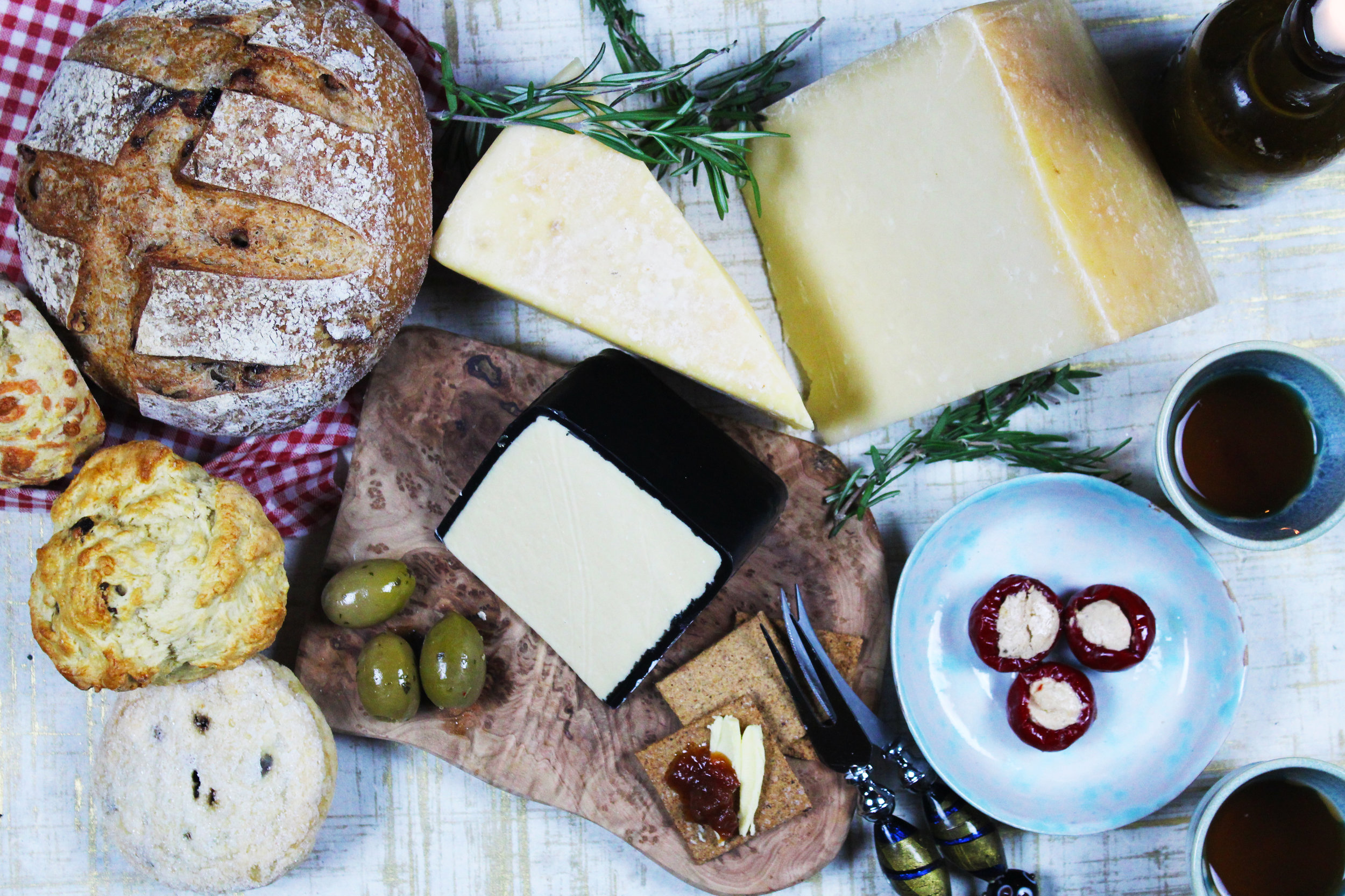 Christmas is our favourite time of the year; family, friends, good food (great cheese) and most importantly …. our busy little elves love making all your hampers fresh to order.
Please note that all our hampers contain a selection of cheese, pies and products from our dry store such as: crackers, chutneys, biscuits, fudge and other tasty treats. If you have any specific product requests please do make us aware of these.
This year we have several options for you to choose from to ensure you have the perfect gift for your nearest and dearest.
Our standard hampers come in three sizes. Small (£20), Medium (£35) & Large (£50).
We have a local products hamper specialising in products from Ashbourne, Staffordshire, Derbyshire and the wider peak district. Prices start at £35 but are variable depending on how many additional products you wish to add your.
Our premium Gift basket comes in a lovely wicker basket and includes our finest range of products. These are quite large hampers and as such prices start at £55 to ensure these hampers are full of delicious goodies.
Finally if you want specific products in a specific hamper, we are pleased to continue to offer a build your own hamper service were you select each product you'd like to include and we take care of the rest.
We're passionate about cheese and finding the right cheese for each customer. We typically keep about 75 different types of cheese in stock and always happy to order in a variety if requested. Whether you're putting it in a sandwich, on a cheese board, pairing with wine or beer, cooking or using cheese as a course in a dinner party will will endeavour to match the cheese to your individual needs.
We know that, like people, all cheese are unique and have their own attributes and character that make them suitable for different uses but also the wide variety of individual taste. Whilst we would love to list all of our favourite cheese here, there simply is not enough space to do so. However, here are some of favourite cheeses that we typically always have in stock:
Baron Bigod - a creamy, white bloomy-rind cheese handmade by the team at Fen farm dairy, from their own raw Montbeliarde cows milk. It has a smooth silky texture and a golden curd, with long lasting warm earth, farmyard and mushroom flavours.
Montgomery's Mature Cheddar - is the epitome of traditional, handmade, unpasteurised Somerset Cheddar, matured for 12 months wrapped in muslin cloth on wooden shelves and has deep, rich nutty flavours.
Roquefort Société -has an ivory-coloured paste with emerald-green veining and a creamy, moist texture. Its rich, intense sheep milk flavour balances the blue mould aroma creating the magic taste that has made Roquefort famous around the world and distinguished it by many as the King of Cheeses.
Cornish Kern - crowned Supreme Champion at the World Cheese Awards 2017, Kern is a cheese not to miss. Firm to the cut, slightly flaky in the middle, it is buttery with caramel notes. Originally derived from a Gouda style cheese, the team at Lynher Dairiesa add Alpine starter cultures to create a close texture resembling Dutch and French/Swiss cheeses. It matures for sixteen months within its handsome black wax coating.
Brinkburn - is a pasteurised and vegetarian award-winning goats' cheese. Mould-ripened, and velvety soft on the palate, it is light-textured and pleasingly sweet, with notes of coconut. It is matured for approximately 4 months. This international prize-winner is queen of the cheeses.
Good cheese is as important as good wine and we are always happy to help you find the one thats right for you with samples of our cheeses and matching them to your taste profile, let us use our knowledge and passion for cheese to ensure you leave with the right products.
christmas at The cheddar gorge 2018
We are very excited for Christmas this year and have been hard at work developing delicious pies, cakes, special sandwiches and coffees as well as sourcing amazing cheese and great presents for your nearest and dearest. Below you will find information on our Christmas product list and order form as well as events we are running this festive season. If you would like to discuss shipping/delivery of Christmas orders please use the contact form on this website, phone or email us.
Christmas product list
Our 2018 Christmas product list can be viewed and printed by clicking the button below. Please use this form to select the size and quantity of products before completing our Christmas order form.
Christmas order form
Once you have read and completed the Christmas product list form, please click the button below to view and print our Christmas order form. Once you have completed this order form please return this to us by post, email or dropping it into the shop so we can process your order.
Christmas Events at the cheddar gorge
We are putting on several events this year, to find out more about these events please click the button below to be taken to our online events page.
All our pies are handcrafted with care and love. We believe in using the best ingredients to ensure the quality of all our savoury pastry treats. Whether it's the humble sausage roll or one of our premium gourmet pie we treat each and every product we make with the same attention to detail and care so that all our customers leave with a delicious pie no matter what day the visit the store.
For a full complete product list please use the 'Contact Us' form at the bottom of this site, but a few pies always stock are listed below.
Pork pies
Huntsman pies
Sausage rolls
Cornish style pastys
Steak pies
Individual cottage pies
We take great pride in our cakes and believe we have the most extensive range of sweet treats in Ashbourne. Whether you're sitting in with a cup of the best coffee in Ashbourne or taking away we believe we offer something for everyone.
We offer a range of traybakes that can be bought individually or why not build a selection to takeaway in a cake box, perfect for any occasion.
We also offer four different types of homemade sponge cakes: Victoria, Chocolate, Lemon Drizzle and Coffee & Walnut, to be bought whole or as a half.
We are also happy to offer our baking expertise in creating celebration cakes, if you wish to order one of these show-stopping cakes please get in touch so we can arrange a consultation with our one of our bakers.
Love cheese?
Our cheese celebration cakes are perfect for any occasion - weddings, birthdays, graduations, parties.
All our cakes are made to your taste profile and personalised for your event. You'll have the help of our knowledgeable staff who will work with you to ensure we find the perfect combination for your cake, so you'll have your own custom-designed cheese cake which suits your taste, theme and budget, for no additional cost.
We offer catering services for both individuals and businesses. There are three levels of buffet - Gold (£14.50 per head), Silver (£9.50 per head) or Bronze (£6.50 per head). We also offer a bespoke sandwich platter service. If you would like to find out more information about both these services please use the contact form below.
where you can find us
9 Dig Street
Ashbourne, Derbyshire, DE6 1GF
Tel: 01335 344 528
Contact Us
If you have a question or would like to discuss something specific with a member of the team please use the form opposite. By using this form you consent to your information being stored securely within our database. We will NOT use this information for marketing purposes nor will we share this information with any third parties.